Podcast: Play in new window | Download
🇺🇸Hank Strange🦅WMMF Ep 956 : New Year's Eve 2022 & Hi Point 10MM Yeet Cannon!
Who Moved My Freedom podcast New Year's Eve Hangout. Hi Point JXP10 News with Dave from Hi-Point Firearms, Walter Keller of Safety Harbor Firearms, John Crump of John Crump News, Kevin Dixie of NOC, Rod Mills of Scorched Earth Training, Rob McNealy of TUSC, Flying Rich and Joe of SGNE. Hank Strange WMMF Podcast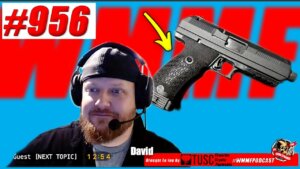 Please Consider Supporting WMMF by Subscribing To Our Utreon Channel For As Little As $4.99/month
Use Code STRANGE10 to save 10% off $150+ *Brownells Edge Members get FREE Shipping on all orders*
US Law Shield Promo Code "HANK" for 2 Free Months on an Annual + the locked in rate of $10.95/ month https://www.uslawshield.com/
Blackout Coffee 10% Off code HANK10 https://bit.ly/3jdNVqC
Axil GS Extreme All In One Tactical Earbuds NO CODE NEEDED To Save
WANT TO SUPPORT WHAT WE DO?
Become A Subscriber To WMMF Podcast On Our Utreon Channel
DONATE On Patreon
DO IT FOR FREE by Shopping Amazon Using Our Link : http://amzn.to/3tLoeAb
CHECK OUT Our Website For Discount Codes & Deals : https://bit.ly/3Ki46gZ
SUBSCRIBE to my Car Channel
https://www.youtube.com/c/strangerpalooza
THANK YOU TO OUR PODCAST PARTNERS! :
Walther Arms – Manufacturer of sporting and competition firearms
ArmsList – Shop locally and nationwide firearm classifieds
Hi-Point – Manufacturer of Ammo for sport shooting & personal protection
Franklin Armory/Osprey Defense – Manufacturer of 100% US made firearms & Triggers
TUSC – Cryptocurrency for eCommerce Online Payment Transactions
AMAZON NOTICE: As an Amazon Associate, We earn from qualifying purchases.