Podcast: Play in new window | Download
🇺🇸Hank Strange🦅WMMF Ep 887 : Cigarlife with Adrian Of Cigars & Guns LLC And Roy Hill Of Brownells
On This episode of Who Moved My Freedom, our special guests are Adrian Borunda of Cigars & Guns LLC on Facebook / Instagram and Roy Hill of Brownells. Adrian shows off some bad@ass F-1 Firearms #leadleaflife and Roy fills us in on his new position with SOWW (Special Operations Wounded Warriors).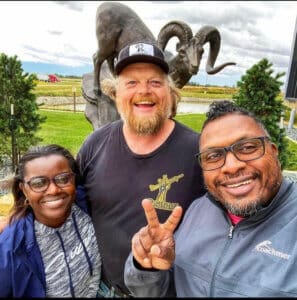 The last time we saw Roy was last October at Brownells headquarters in Grinnel, Iowa.  Above is a picture we took on the premise right outside the retail store which is open to the public. Since then Roy has been on many social media related trips including a recent trip to South Florida where he went Iguana hunting with members of Brownells Bureau of Propaganda.
Roy was also recently elected to the Board of Directors of SOWW – Special Operations Wounded Warriors. SOWW does charitable work on behave of members of the Untied States military special operations community.
Men and Women who have served in these units and have been wounded or otherwise injured, SOWW provides therapeutic outdoor experiences and counseling services for them and their families. This is a 501C3 charity. No one on the Board of Directors gets any salary.
It is truly a heart project that Brownells is big part of.  If you feel inclined to donate this outstanding organization, please go here to donate.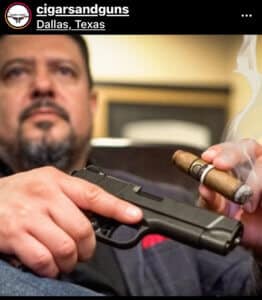 Our friend Adrian of Cigars & Guns was last on Who Moved My Freedom several years ago.  It's definitely been a minute.  I first met Adrian at a Brownells event at Industrial Cigar Lounge in Frisco, TX. Adrian has several podcasts where he discusses many subjects that surround the vast world of Cigars, the collection of guns and cigarlife.
From discovering your first cigar, going to the range for the first time, or being a cigar aficionado and seasoned weapons collector, Adrian's cigarlife podcasts are for everyone #leadleaflife #cigarlife.  You can check out the Lead and Leaf podcast and the Cigar Talk podcast by checking out the facebook page.
Adrian also has quite the collection when it comes to firearms.  We get to see some of his F-1 firearms and more during this episode.
—————————————————————————————————-
Please Consider Supporting WMMF by becoming a Subscriber on Our Utreon Channel
US Law Shield Promo Code "HANK" for 2 Free Months on an Annual + the locked in rate of $10.95/ month
Blackout Coffee Premium Small-batch flavors, Roasted in the Sunshine State! Check out the coffee, teas, Cocoa and SAVE 10% off with Promo Code HANK10
Axil GS Extreme All In One Tactical Earbuds Save Up To 51% OFF NO CODE NEEDED
Lola's Deals
Amazon Tools & Outdoor Supply
THANK YOU TO OUR PODCAST PARTNERS! :
Walther Arms – Manufacturer of sporting and competition firearms
ArmsList – Shop locally and nationwide firearm classifieds
Hi-Point – Manufacturer of Ammo for sport shooting & personal protection
Franklin Armory/Osprey Defense – Manufacturer of 100% US made firearms & Triggers
TUSC – Cryptocurrency for eCommerce Online Payment Transactions
————————————————————
AMAZON NOTICE: As an Amazon Associate, We earn from qualifying purchases.