Podcast: Play in new window | Download
🇺🇸Hank Strange🦅WMMF Ep 884 : Disney Opposes Desantis "Don't Say Gay Bill" with Baby Face P On YouTube
On This episode of Who Moved My Freedom, I am joined by  Patrick Babyface P. What is the worse sign of disrespect? I get Babyface P reaction to The Oscars, Will Smith Chris Rock and the slap.
Florida Governor Desantis takes on World Disney over "Don't Say Gay" bill opposition, We've got this, Gorn to share including a P320 build kit from JSD Supply and much more!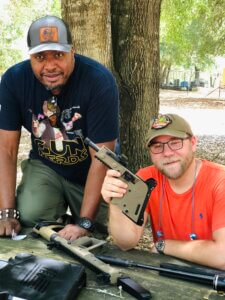 In Florida, Governor Desantis called out World Disney over their opposition is the controversial HB 1557, also known as the "Don't Say Gay" bill. In a press conference today, Governor Ron DeSantis stated that Disney "crossed a line."
This came after Walt Disney Company said on Monday through a spokesperson that the bill "should never have passed and should never have been signed into law." And on top of that the company is committed to fighting HB 1557's implementation.
To that Governor DeSantis said, "For Disney to come out and put a statement and say that the bill should have never passed and that they are going to work to actively work to repeal it, I think, 1.) was fundamentally dishonest but 2.) I think that crossed the line."  Boom!
And this is why I truly like and appreciate Ron DeSantis. He is really fighting for Floridians when it comes to decisions and laws that affect us on a daily basis.
Excerpt In Response to Twitter Post about voting for a Republican as a woman:
Babyface : "The concept of I know what's best for you is weird and gross"
Hank: "Let people be who they are.That's truly what I believe. Even if I don't necessary like or agree with who they are. The thing about the right to defend yourself is that all human beings have that. Do you all want to walk around getting punked by bullies like Will Smith…"
Hank: "Who thinks because he's bigger or has done some special training with boxers and other martial artists for movies that he just go around slapping dudes like Chris Rock that's clearly a beta male?"
—————————————————————————————————-
Please Consider Supporting WMMF by becoming a Subscriber on Our Utreon Channel
US Law Shield Promo Code "HANK" for 2 Free Months on an Annual + the locked in rate of $10.95/ month
Blackout Coffee Premium Small-batch flavors, Roasted in the Sunshine State! Check out the coffee, teas, Cocoa and SAVE 10% off with Promo Code HANK10
Axil GS Extreme All In One Tactical Earbuds Save Up To 51% OFF NO CODE NEEDED
Lola's Deals
Amazon Tools & Outdoor Supply
THANK YOU TO OUR PODCAST PARTNERS! :
Walther Arms – Manufacturer of sporting and competition firearms
ArmsList – Shop locally and nationwide firearm classifieds
Hi-Point – Manufacturer of Ammo for sport shooting & personal protection
Franklin Armory/Osprey Defense – Manufacturer of 100% US made firearms & Triggers
TUSC – Cryptocurrency for eCommerce Online Payment Transactions
————————————————————
AMAZON NOTICE: As an Amazon Associate, We earn from qualifying purchases.