Podcast: Play in new window | Download
🇺🇸Hank Strange🦅WMMF Ep 882 : 2A EDU On YouTube. On this episode of Who Moved My Freedom podcast, I am joined by 2A Edu on YouTube. We talk all about The Gathering by PSA that took place in Clinton, SC last weekend.
Who were some of the YouTube Celebs that we saw?
We saw Sootch00, MrGunsnGear, Legally Armed America, Print Shoot Repeat just to name a few.  2A EDU did a video with Jordan Stein of Gun Owners of America about Constitutional Carry.
Recently, Alabamians' right to self-defense was strengthened by the passing of Constitutional Carry.  Now any law-abiding adult in Alabama who is at least 21-years-old and legally eligible to obtain a carry permit, can carry a handgun without first having to obtain government permission.
I spoke with the folks at Right To Bear Insurance.  Right to Bear states that they offer true self-defense liability insurance whether you are a Conceal Weapon Permit holder or just a responsible gun owner.
I've had both Perry and Frank on the podcast before on episode 846.  From my understanding Right To Bear Insurance is insurance that covers you if you ever need to defend yourself with your gun. They cover both criminal and civil defense and there are four different levels of coverage, each with its own price point and coverage amount.
Right To Bear is a partner company of Palmetto State Armory under the JJE Capital umbrella of companies. Giving them serious backing from a major company in the firearm industry.  You can learn more about the Right To Bear Insurance program for self-defense when you push on that link. I think it's worth looking into if for no other reason than having peace of mind that you're covered in the event of a defensive gun use.
I will have them back on the WMMF Podcast again to bring us up to speed on new changes and/or offerings as well answer to questions that folks may have.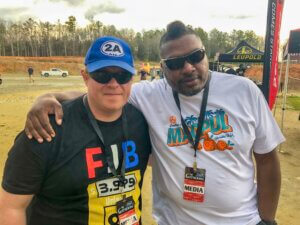 What new firearms did we see we see during the range day at the Clinton House Plantation where the PSA Gathering was held?
We got to handle and shoot one the most anticipated firearms of 2021 and now 2022 since it did not come to production as expected in 2021.  The PSA Jakl, is it finally ready for release?  Well it appears that it is.  2A Edu and I both got the chance to shoot it and speak with the Lead Engineer about the changes and improvements that have been made since I last saw it.  You will find the video of that on YouTube here.
2A Edu and I also saw the Springfield Hellion, however neither of us shot it. It was lighter weight then I expected and it looked good.  Of course, I'm a bullpup fan however I am conflicted as a result of the Springfield Armory and Rock River Arms involvement with the the Illinois Firearms Manufacturers Association (IFMA) push for the Gun Dealer Licensing Act in 2018.
Side note we will be at the Ham Radio Day Event on March 26 in Huntsville, AL.  The event will take place at the Gigaparts store from 9 – 3pm.  Lola and I will there. Stop by and see us if you are in the Huntsville Area.
—————————————————————————————————-
Please Consider Supporting WMMF by becoming a Subscriber on Our Utreon Channel
US Law Shield Promo Code "HANK" for 2 Free Months on an Annual + the locked in rate of $10.95/ month
Blackout Coffee Premium Small-batch flavors, Roasted in the Sunshine State! Check out the coffee, teas, Cocoa and SAVE 10% off with Promo Code HANK10
Axil GS Extreme All In One Tactical Earbuds Save Up To 51% OFF NO CODE NEEDED
Lola's Deals
Amazon Tools & Outdoor Supply
THANK YOU TO OUR PODCAST PARTNERS! :
Walther Arms – Manufacturer of sporting and competition firearms
ArmsList – Shop locally and nationwide firearm classifieds
Hi-Point – Manufacturer of Ammo for sport shooting & personal protection
Franklin Armory/Osprey Defense – Manufacturer of 100% US made firearms & Triggers
TUSC – Cryptocurrency for eCommerce Online Payment Transactions
————————————————————
AMAZON NOTICE: As an Amazon Associate, We earn from qualifying purchases.