Podcast: Play in new window | Download
WMMF Ep 881 : Shooting Gallery Ne & GunDoctor TV On YouTube.
On This episode of Who Moved My Freedom, I am joined by Gun Owners of America Kentucky State Director / YouTube Content Creator Danial Baria of GunDoctor.TV. I am also joined by Joe of Shooting Gallery New England and Shooting In The Woods podcast on YouTube.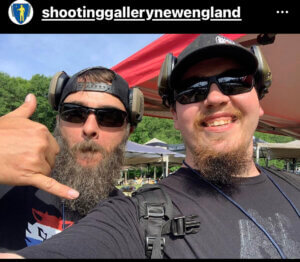 We discuss EDC lights, made in America or made in China? When do you sale your firearms or do you ever? How do you get to a million subscribers on YouTube, how to make money on YouTube and much more.
Excerpt:
Hank : "FlyinRich says Olight is the only light with a confirmed kill… Wait did Olight killed someone?"
Joe: "yeah, I have a permanent scar."
GunDoctor TV : "Exactly, dude was working on something with it in his mouth and it blew up."
Hank: " So he had it in his mouth and it blew up?  When was this?"
Joe: " A few years ago.  My Olight almost blew up in my pants. I was driving ad I had it on my Glock 19. Thank God,  I was in a car and not in a store.  All of a sudden I'm driving and I feel my leg just burning up. I'm like what the hell is that. I feel my pants and I'm like oh-oh."
Joe: " So in traffic, I discreetly pulled my gun out and I could see the heat just steaming off my holster. The light was on because the ring under the Olight got all wonky and started lighting up."
—————————————————————————————————-
Please Consider Supporting WMMF by becoming a Subscriber on Our Utreon Channel
US Law Shield Promo Code "HANK" for 2 Free Months on an Annual + the locked in rate of $10.95/ month
Blackout Coffee Premium Small-batch flavors, Roasted in the Sunshine State! Check out the coffee, teas, Cocoa and SAVE 10% off with Promo Code HANK10
Axil GS Extreme All In One Tactical Earbuds Save Up To 51% OFF NO CODE NEEDED
Lola's Deals
Amazon Tools & Outdoor Supply
THANK YOU TO OUR PODCAST PARTNERS! :
Walther Arms – Manufacturer of sporting and competition firearms
ArmsList – Shop locally and nationwide firearm classifieds
Hi-Point – Manufacturer of Ammo for sport shooting & personal protection
Franklin Armory/Osprey Defense – Manufacturer of 100% US made firearms & Triggers
TUSC – Cryptocurrency for eCommerce Online Payment Transactions
————————————————————
AMAZON NOTICE: As an Amazon Associate, We earn from qualifying purchases