Podcast: Play in new window | Download
🇺🇸Hank Strange🦅WMMF Ep 880 : FreeForAll Monday : NY Times Hunter Biden Laptop & Aid to Ukraine
On This episode of Who Moved My Freedom, It is time for Let's Go Hunter Brandon! I am joined by Walter of Safety Harbor Firearms and Patrick Babyface P and we have got a lot to unpack.
It appears mainstream is now acknowledging Hunter Biden's laptop as authentic, Firearms manufactures send aid to Ukraine, and I've got new gear from Full Forge Gear and much more!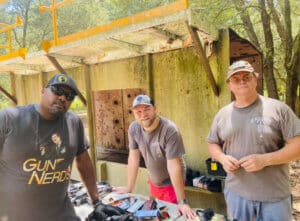 At nearly two years after we all heard about the Hunter Biden Laptop, the news media specifically The New York Times has finally admitted Hunter Biden's laptop is real. If you recall, back during the 2020 presidential election, the Times and others cast doubt about the validity of the laptop.
In spite of numerous other reports of expert investigation into the emails and photos from Biden's Laptop that have surfaced and circulated the internet in the last year.
The NY Times linked it to Russian disinformation and made no attempt to verify it. Now, the Times and other major and social media outlets have around to admitting to truth that we have known all along. In my opinion, all the media outlets who failed to do their journalistic duty and investigate are the real unreliable purveyors of disinformation.
In other news donation drives across America for the people of Ukraine continues.  Collective efforts to supply Ukraine with arms have spread throughout the United States in response to Ukrainian President Volodymyr Zelensky's call to arm his citizens.
Military supplies like firearms, ammo, helmets, and body armor are among the items donated to be shipped to Ukraine.  KelTec has announced that the company will be sending 400 rifles to Ukraine plus an additional 60 donated by Nassau County in Long Island.
Have you heard of  Full Forge Gear ? It is a new offering from MKS, the parent company of Hi-Point Firearms and Barnaul ammo. Full Forge Gear is affordable high-quality nylon gear bags for everyday life, from multipurpose bags to one-day backpacks to pistol and rifle cases.
I've just gotten some of these items in to try out and I will keep you all posted on how I use them and how well they hold up.
————————————————————
Please Consider Supporting WMMF by becoming a Subscriber on Our Utreon Channel
US Law Shield Promo Code "HANK" for 2 Free Months on an Annual + the locked in rate of $10.95/ month
Blackout Coffee Premium Small-batch flavors, Roasted in the Sunshine State! Check out the coffee, teas, Cocoa and SAVE 10% off with Promo Code HANK10
Axil GS Extreme All In One Tactical Earbuds Save Up To 51% OFF NO CODE NEEDED
Lola's Deals
Amazon Tools & Outdoor Supply
THANK YOU TO OUR PODCAST PARTNERS! :
Walther Arms – Manufacturer of sporting and competition firearms
ArmsList – Shop locally and nationwide firearm classifieds
Hi-Point – Manufacturer of Ammo for sport shooting & personal protection
Franklin Armory/Osprey Defense – Manufacturer of 100% US made firearms & Triggers
TUSC – Cryptocurrency for eCommerce Online Payment Transactions
————————————————————
AMAZON NOTICE: As an Amazon Associate, We earn from qualifying purchases.